US airport security staff sacked after TSA probe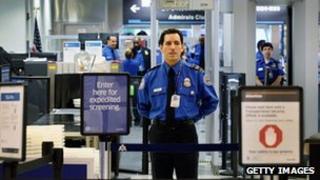 Airport security officials in the US are to sack 25 employees and suspend another 19 after an investigation into improper screening of checked luggage.
The alleged failures at Newark Liberty International Airport came to light in 2011 after cameras were installed in one of its screening rooms.
Eight employees were dismissed in June as part of the investigation by the Transportation Security Administration.
The cameras were installed because of an ongoing theft investigation.
The one employee under suspicion in the theft investigation ended up resigning.
The TSA, which has more than 1,400 employees at Newark, said only that those cited in the probe had failed to properly screen luggage before flights departed. It did not provide more detail.
Luggage screeners and managers accused of failing to supervise their employees were implicated in the investigation.
All 44 employees cited on Friday have the right to appeal.
The previous biggest disciplinary action taken by the TSA was in 2011 at Honolulu International Airport, Hawaii. A total of 48 employees were recommended for firing or suspension, also for failing to properly screen luggage.