Storm Isaac delays Republican convention in Florida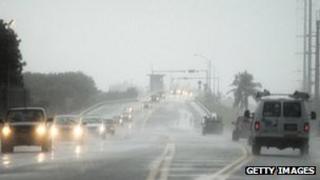 The Republicans have decided to delay by a day discussions at their national convention in Florida because of the approach of Tropical Storm Isaac.
The gathering would convene on Monday but then be immediately postponed until Tuesday, the National Committee chairman Reince Priebus announced.
The meeting in Tampa will formally nominate Mitt Romney as presidential candidate to challenge Barack Obama.
US forecasters predict that Isaac could hit Florida on Sunday.
A storm warning has been issued for the state's coast extending to the north of Tampa, and Isaac is expected "to be at or near hurricane strength when it reaches the Florida Keys", the Miami-based US National Hurricane Center (NHC) warns.
Officials have organised shelters and urged holiday-makers to leave the Florida Keys.
The storm is now located 550km (340 miles) east-southeast of Key West in Florida, moving north-west at 30km/h (17mph).
Earlier the Cuban government declared a state of alert in at least six provinces and evacuated thousands of people from high-risk areas.
'Exciting' gathering
"Due to the severe weather reports for the Tampa Bay area, the Republican National Convention will convene on Monday, 27 August and immediately recess until Tuesday afternoon, 28 August," Mr Priebus said in a statement on Saturday.
He said the decision was made after consultations with Florida Governor Rick Scott and federal and local emergency officials.
But Mr Priebus added that the convention would be "exciting" and "robust" after the storm.
About 50,000 people are expected in Tampa to attend speeches, parties and the formal nomination of Mr Romney to run against Democratic President Obama in the November elections.