Seven arrested over Louisiana police shooting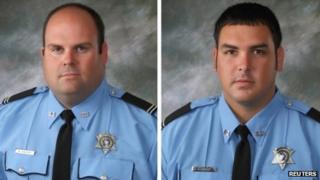 Seven people have been arrested in connection with the shooting of four policemen, two of whom died, in the US state of Louisiana.
Five people were detained at the scene of the shootings and two are accused of being accessories, police said.
Charges have so far been brought in relation only to one of the injured police officers.
The two policemen killed were investigating the shooting of another officer in a car park near New Orleans.
It is not clear what was the motive for the attacks.
'Terroristic threats'
The suspects have been named as:
Brian Lyn Smith, 24, who was charged with attempted first-degree murder
Terry Smith, 44; Derrick Smith, 22; Kyle David Joekel, 28; and Teniecha Bright, 21, who are charged with principal to attempted first-degree murder
Chanel Skains, 37, and Britney Keith, 23, who are suspected of being accessories to the crime
Brian Smith and Kyle Joekel are in hospital with gunshot wounds.
Mr Joekel is also on a most-wanted list in Nebraska for making "terroristic threats" to customers at a local bar and law enforcement officials, according to the Associated Press news agency.
All the suspects are from LaPlace, Louisiana, several miles west of New Orleans, where the shootings occurred.
The officers who died were identified as Deputies Brandon Nielsen, 34, and Jeremy Triche, 27.
Charges have only been filed so far in relation to the first policeman shot, Michael Boyington, 33.
On Thursday, Sheriff Mike Tregre said that the first shooting occurred early that morning in the Valero refinery car park.
Officers investigating the incident tracked reports of a speeding car and ended up in a trailer park, he said.
They had handcuffed a suspect when a person emerged from a nearby trailer with a firearm and "ambushed" the two officers.
The other wounded officer is Jason Triche, 30. The Triches are said to be related.