Steve Jobs' Palo Alto house burgled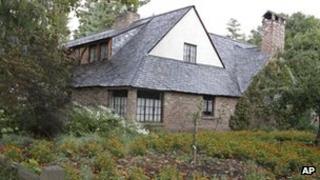 Several computers and items worth $60,000 (£38,000) were stolen from the home of the late Steve Jobs during a recent break-in, it has emerged.
Kariem McFarlin, 35, was arrested on 2 August for burglary and selling stolen property.
Officials said he probably did not at first realise the Palo Alto, California home once belonged to the Apple founder, who died last October aged 56.
Palo Alto police have reported a rise in burglaries in 2012.
Santa Clara County deputy district attorney Scott Tsui said: "I'd imagine the suspect eventually realised whose house he was in, but outside, it was just another house in Palo Alto."
Officials say they suspect the house was targeted on 17 July because it was being renovated and appeared less secure.
Mr Tsui said they were not aware that anything special was taken, adding "the computers, I'd imagine since he's Mr Jobs, are Apple products".
The accused faces up to eight years in prison if convicted.