Gov Chris Christie to deliver Republican keynote speech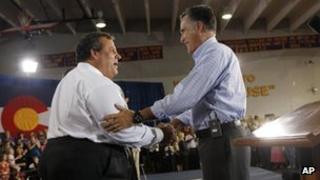 New Jersey Governor Chris Christie will be the keynote speaker at this month's Republican national convention, the party has said.
Gov Christie, known for his combative style and budget-cutting record, is popular with fiscal conservatives.
He told USA Today he planned to tell some "very direct and hard truths" in the speech.
The convention in Tampa, Florida, will formally nominate Mitt Romney as the party's White House candidate.
Democrats, who hold their national convention in Charlotte, North Carolina, early next month, chose San Antonio Mayor Julian Castro to deliver their keynote address. He will be the first Latino to do so.
Rubio's role
The keynote speech is the highest profile spot for someone not accepting the party's presidential or vice-presidential nominations.
Gov Christie was among those named as a potential Romney running mate.
But the former Massachusetts governor chose Wisconsin Representative Paul Ryan on Saturday as his number two.
The Romney campaign said on Tuesday that Florida Senator Marco Rubio, who was also once touted as a possible running mate, would introduce the candidate at the 27-30 August convention.
When Gov Christie was elected in 2009, he became the first Republican governor of New Jersey in 12 years.
He cut the state's budget by $1bn (£636m) in 2011, curtailed the power of public sector unions, and introduced tax cuts.
He has also notably refused to sign a bill passed by the state legislature making same-sex marriage legal, but did appoint the first openly gay man to the New Jersey Supreme Court.
Gov Christie briefly considered jumping into the Republican primary for president and has not ruled out a future run for the White House.
'Unchain Wall Street'
Other speakers already announced for the Republican convention include Rick Santorum, Mitt Romney's bitter rival in the primary contests, and former Florida Governor Jeb Bush.
His brother, former President George W Bush, is not attending.
With November's election looming, President Barack Obama has campaigned for the second day of a bus tour in Iowa.
Mr Romney and Mr Ryan have tried to shift attention to their energy policy, following criticism of Mr Ryan's budget plans to overhaul Medicare, the federal health scheme for the elderly.
On Tuesday, Romney adviser Lanhee Chen sought to offer fresh assurances that a Romney-Ryan administration would not harm Medicare.
Mr Romney has accused President Obama of planning to cut $700bn from Medicare.
This figure appears to come from a report by independent auditors who found that if Republicans were successful in their attempts to repeal the Obama healthcare law, Medicare costs would grow by $716bn over the next decade.
But House budget committee chairman Mr Ryan's past two spending plans have advocated a similar sized cut to Medicare, albeit in a different way from Mr Obama's healthcare law.
Both candidates on the Republican ticket have called for the repeal of the law.
In a separate development on Tuesday, Vice-President Joe Biden was criticised by the Romney campaign after attacking Mr Romney's plans to reform financial regulation.
Mr Biden told an audience in rural southern Virginia that a Republican administration would "unchain Wall Street. They're going to put y'all back in chains".
But the Romney campaign said the vice-president's comments were "not acceptable" and marked a "new low" in political sparring.