Obama and Ryan trade barbs in Iowa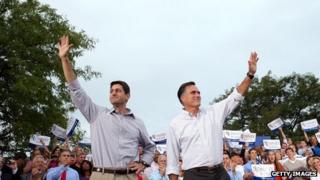 US President Barack Obama and Republican vice-presidential candidate Paul Ryan have clashed on the campaign trail in the state of Iowa.
The Obama camp, which is seeking to depict the Republican running mate as an ideologue, released an online ad attacking his budget proposal.
Brushing aside criticism of his number two, Mitt Romney emphasised they would run on his own spending plan.
Mr Obama has a slim poll lead over Mr Romney, three months from election day.
Mr Obama reminded voters in Iowa - a state with an important agricultural sector - that Mr Ryan had, along with other Republican congressmen, blocked passage of a farm bill that included assistance for farmers and ranchers hurt by the current severe drought.
Defining Ryan
"So if you happen to see Congressman Ryan, tell him how important this farm bill is to Iowa and our rural communities," Mr Obama said.
Mr Ryan has demanded large cuts to the proposed legislation, which also includes food stamps for the poor.
But speaking at the Iowa State Fair, Mr Ryan said Mr Obama was "spending our children into a diminished future".
"As you see the president come through in his bus tour, you might ask him the same question that I'm getting asked from people all around America. And that is: where are the jobs, Mr President?" he said.
Mr Romney and his running mate were in Virginia, North Carolina and Mr Ryan's home state of Wisconsin over the weekend.
Republicans say voter engagement in the race has soared since Mr Ryan was announced as Mr Romney's vice-presidential candidate on Saturday, including $3.5m (£2.2m) in donations in 24 hours.
The Romney campaign sent out an email to supporters asking for contributions shortly after Mr Ryan, a seventh-term Wisconsin congressman, was unveiled.
Campaigning solo
The selection of Mr Ryan appears to have reinvigorated the Republican campaign, but Democrats have pounced on his proposals to overhaul government social spending and lower taxes on corporations and the wealthy.
Mr Obama began a three-day bus tour of Iowa on Monday, a key state in the election. It will be the longest time he has spent in any one state as part of his re-election campaign.
Iowa was the launching point for the president's 2008 run for the White House.
Mr Obama also announced in Iowa on Monday that he was directing the US Department of Agriculture to buy up to $170m in meat and fish.
The move comes amid concerns that the worst drought in decades would make it hard for livestock producers to afford the rising cost of corn, a staple for feed.
The purchased food will be sent to assistance programmes, such as food banks.
Mr Ryan was campaigning solo in the Hawkeye state on Monday, meeting voters at the Iowa State Fair.
Meanwhile, Mr Romney was touring Florida, a state with many retired voters. Correspondents note that Mr Ryan's plans to reform Medicare, a government healthcare programme for the elderly, may not play well in the key swing state.
A new Obama campaign ad released online on Monday featured elderly voters in Florida talking about how they could be affected by Mr Ryan's spending plan.
Meanwhile, the Romney campaign's supporters released a new television ad that attacks Mr Obama's handling of the economy and stagnant unemployment numbers. That ad will air in nearly a dozen battleground states for a week.
Mr Obama made his first public comments on Sunday about the selection of Mr Ryan, praising him as a decent family man, but with a vision "fundamentally" at odds with his own.
Mr Romney sought on Sunday to distance himself from his running mate's spending ideas, telling CBS' 60 Minutes: "I have my budget plan. And that's the budget plan we're going to run on."
Mr Ryan has chaired the budget committee of the Republican-dominated House of Representatives since 2011, and has proposed major changes to long-standing government programmes.