US Postal Service reports over $5bn in quarterly loss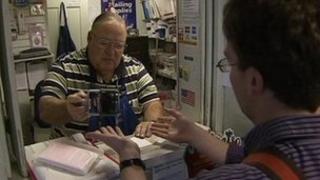 The cash-strapped US Postal Service has reported a quarterly loss of $5.2bn (£3.3bn) and is due to miss another huge benefits payment.
The agency said $3.1bn of the loss was from payments for retirement health benefits, but the shrinking volume of first-class mail was also a factor.
The results come a week after the USPS made its first default on payments for future retirement health benefits.
The April-to-June losses were $2.1bn more than the same period last year.
"We have simply reached the point that we must conserve cash," said Thurgood Marshall Jr, chairman of the board of governors of the US Postal Service.
The postal service has called on Congress to approve legislation that would allow it to drop Saturday delivery services and cut its annual health bills, which are currently over $5bn.
But the House of Representatives did not address the matter before breaking for a five-week summer recess.
The next $5.6bn payment of future retiree health benefits is due on 30 September.