US school ends classroom ban on pregnant students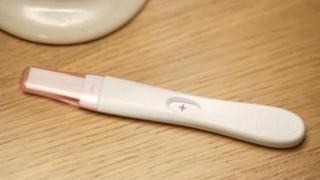 A US school in Louisiana has said it will change a policy that forces students suspected of being pregnant to take a test, and then bans them from class if found pregnant.
The move comes after the American Civil Liberties Union threatened to sue.
No-one at the Delhi Charter School in rural north-east Louisiana realised the policy was wrong, said its chairman.
Students found pregnant and wanting to carry on with their studies had to be home-schooled, the rules said.
School board chairman Albert Christman said the policy has got "everybody up in a roar".
On Tuesday, the ACLU wrote to the school, saying the policy violated a section of the 1972 federal education law, which requires equal opportunities for both sexes.
The policy says: "Any student who is suspected of being pregnant and who refuses to submit to a pregnancy test shall be treated as a pregnant student and will be offered home study opportunities. If home study opportunities are not acceptable, the student will be counselled to seek other educational opportunities."
Mr Christman said "just a handful" of students had been affected by the policy, which dates to 2006.
All of them "came back to school and finished their school," he said.
Too many schools do not realise pregnant students should receive equal treatment, the US National Women's Law Center said in a June report.
"Despite enormous advances for women and girls in education since 1972, schools across the country continue to bar pregnant and parenting students from activities, kick them out of school, pressure them to attend alternative programmes, and penalise them for pregnancy-related absences," the centre said in the report.