Texas executes 'mentally impaired' convict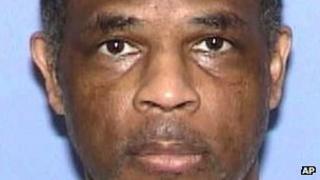 A convicted death-row inmate has been executed in Texas after the US Supreme Court rejected arguments that he was mentally impaired.
Marvin Wilson, 54, was pronounced dead on Tuesday evening after receiving a lethal injection, officials said.
His lawyers had argued that he should have been ineligible for the death penalty because of his low IQ.
In 2002, the Supreme Court outlawed the execution of people with mental impairments.
However, the court left it to individual states to define what this meant.
The prosecution found that Wilson showed inventiveness, drive and leadership when he orchestrated the murder of a police drug informant in 1992.
In his final statement, Wilson said: "Y'all do understand that I came here a sinner and leaving a saint. Take me home, Jesus. Take me home, Lord. I love you all. I'm ready."
Wilson was the seventh person executed by lethal injection in Texas this year.