About half of US counties in drought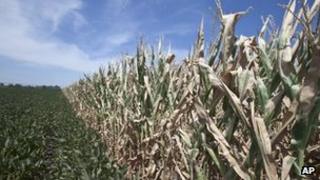 About half of all US counties have been declared disaster areas amid an enduring drought that has hit the country's crops, the US Department of Agriculture says.
Over 200 counties in 12 states were added to the declaration on Wednesday, bringing the total to about 1,500 counties declared because of drought.
Disaster status allows farmers to apply for low-cost government loans.
By late July, nearly half the US corn crop was rated as in poor condition.
Food prices are expected to rise by as much as 5% next year because of the ongoing drought.
"It's the most severe and expensive drought in 25 years," USDA economist Timothy Park told CNN.
The disaster areas have now been declared in 35 states total, with US officials reporting 64% of the country in moderate or severe drought.
US Secretary of Agriculture Tom Vilsack also announced on Wednesday that farmers will not incur interest penalties on unpaid portions of their crop insurance until 1 November.
The US will also allow haying and grazing for livestock on 3.8 million acres (1.5 million ha) in protected and previously off-limits conservation areas.
"The assistance announced today will help US livestock producers dealing with climbing feed prices, critical shortages of hay and deteriorating pasturelands," Mr Vilsack said in a statement.