Severe thunderstorms in north-east US leave two dead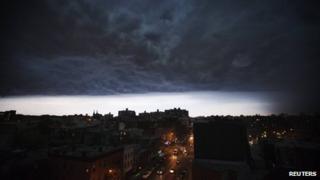 Two people have died in strong summer thunderstorms that left tens of thousands of householders without power across the US north-east.
Among the dead was New York's assistant attorney general Richard Schwartz, who was hit by collapsing scaffolding outside a church.
In Pennsylvania, a tree fell on a woman in her car near a campsite.
Elmira, New York declared a state of emergency and imposed a curfew in the wake of a possible tornado.
There could be further storms throughout the region on Friday.
The Ohio State Fair in Columbus was temporarily shut down by storms. Severe thunderstorm watches were also issued across a swathe of the US that stretched from Oklahoma to New Jersey.
The curfew and state of emergency remained in place on Friday morning in Chemung County - the area around Elmira - with only emergency vehicles allowed on the roads while crews cleared fallen trees and repaired power lines.
About 33,000 people were thought to be still without power across New York state, the Associated Press reported.
A shelter was opened for people who did not have power at home, an emergency management official said.
"This state of emergency declaration will help the state get critical resources to communities that were hit the hardest," New York Governor Andrew Cuomo said late on Thursday.
In a statement, Mr Cuomo said he expressed his sympathy to the loved ones of Schwartz, "who tragically lost his life during last night's severe storm".