Sherman Hemsley, star of The Jeffersons, dies aged 74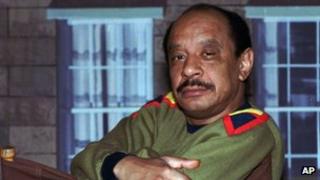 Actor Sherman Hemsley, who starred in the hit 1970s US sitcom The Jeffersons, has died at the age of 74.
Police in El Paso, Texas, said late on Tuesday that Hemsley had been found dead at his home, although the cause of death was unknown.
He played Harlem businessman George Jefferson on CBS's All in the Family before his character was spun off into The Jeffersons.
The Jeffersons, with a mostly black cast, ran for 11 seasons from 1975-85.
The show made fun of America's racial and class-based faultlines. Hemsley's character, a mean-spirited bigot who owned a dry-cleaning business, proved hugely popular with US audiences.
Born in Philadelphia in February 1938, Hemsley's first big break came when he was cast for a Broadway show, Purlie, where he caught the eye of All in the Family's creator.