Trayvon Martin parents anger at Zimmerman interview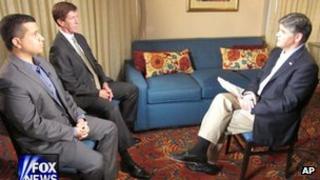 The parents of slain black teenager Trayvon Martin have rejected a remark by the man charged with their son's death that it was God's plan.
Sybrina Fulton branded Florida neighbourhood watchman George Zimmerman's comment about her son's fate as "ridiculous".
Mr Zimmerman, currently free on $1m (£650,000) bail, made the remark in an interview with Fox News.
He told the network that he had not targeted Martin because of his race.
February's shooting of the unarmed teenager as he walked in a gated community in an Orlando suburb sparked a fierce debate on racial profiling in the US.
In the Wednesday evening interview with Fox News, Mr Zimmerman stuck to his story that he had shot the teenager in self-defence after a confrontation.
Asked what he would like to say to the black teenager's parents, Mr Zimmerman said: "I am sorry that they buried their child. I can't imagine what it must feel like, and I pray for them daily.
"I do wish that there was something, anything I could have done that wouldn't have put me in the position where I had to take his life," he said.
He also said he would like to speak with Martin's parents about what happened.
"Absolutely not," Ms Fulton told NBC on Thursday, as she rejected his suggestion her son's death "was all God's plan".
Martin's father, Tracy Martin, told the Associated Press: "There is no way that my God wanted George Zimmerman to murder my teenage son."
Under Florida's controversial "stand your ground" law, the use of lethal force is allowed if a person feels seriously under threat.