JPMorgan pressed on emails in US energy prices probe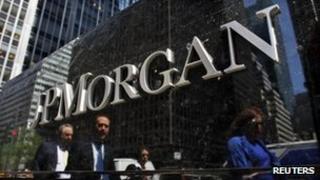 US authorities investigating claims JPMorgan manipulated the electricity market have challenged the bank's refusal to hand over subpoenaed emails.
The Federal Energy Regulatory Commission (Ferc) is looking into complaints from grid operators in California and 11 Midwestern states.
The bank is accused of profiting from loopholes in the bidding process to drive up prices by some $73m (£47m).
JPMorgan cites attorney-client privilege in withholding the emails.
In court filings, Ferc lawyers argued that JPMorgan has previously released emails that were deemed privileged.
'Gaming the system'
"JPMorgan now asks the Court to protect other emails based on the same claims it made for the unprivileged emails, based on incompetent evidence," Ferc investigators wrote, adding "the bare fact of cc'ing an attorney is not enough to support a privilege claim".
The energy regulator is in the early stages of the investigation and said it had not found any wrongdoing so far.
Ferc does not normally disclose investigations, but it chose to subpoena JPMorgan after the bank made privilege claims over emails between top executives.
"Any such improper payments to generators are ultimately borne by the households, businesses, and government entities that are the end consumers of electricity," Ferc lawyers said in the subpoena.
In an email to Reuters, JPMorgan spokeswoman Jennifer Zuccarelli said the company had been responding to the investigation "into certain activities in our federally approved power business".
"We stress that this investigation is ongoing and that no conclusions have been reached or findings adjudicated," Ms Zuccarelli said.
Further details of how JPMorgan allegedly profited by gaming a bidding system in two related energy markets are outlined in the Los Angeles Times .