Florida A&M hazing death claims President James Ammons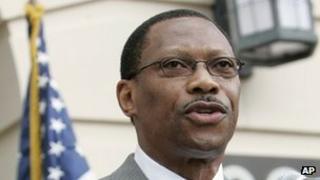 The president of a Florida university where a student band member died in a hazing incident has resigned.
James Ammons had already received a vote of no-confidence from trustees of Florida A&M University for his response to the death of Robert Champion.
Champion died, allegedly beaten, after the university marching band performed at a football game in November.
Mr Ammons' resignation came on the same day Champion's parents launched legal action against the university.
There was no indication whether his resignation was linked to the legal action.
Robert and Pamela Champion launched their lawsuit alleging that not enough had been done to enforce anti-hazing policies or keep tabs on activities of members of the famed Florida Agricultural and Mechanical University marching band, the Marching 100.
Officials "failed to properly supervise, train, discipline and control the FAMU Band", the lawsuit said, according to the Associated Press.
The Champions described the resignation of James Ammons as part of necessary "housekeeping" at the university.
Mr Ammons had remained defiant over his position, saying recently that he would stay in his post until "the final bell rings".
Hazing involves subjecting members of a group or fraternity to humiliation or abuse, often as part of an initiation.
Mr Champion was a drum major and member of the Florida Agricultural and Mechanical University's legendary marching band, the Marching 100.
He was bruised on his upper body, bleeding internally and went into shock, medical officials said.
Eleven band members face charges over the hazing and have pleaded not guilty.
Their trial is scheduled to begin in October, the same month Mr Ammons' resignation comes into effect.