Alligator bites off Florida teenager's arm in attack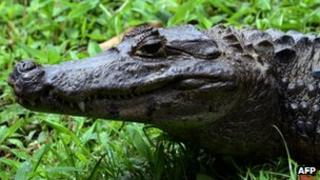 A teenager has had his right arm bitten off by a 11ft (3.3m) alligator while swimming in a Florida river.
Kaleb Langdale, 17, survived the encounter in the Caloosahatchee River and wildlife officials caught and killed the alligator responsible.
Doctors at a Fort Myers hospital were unable to reattach his arm.
Alligators are more active during the summer mating season, wildlife officials said, but they rarely bite humans.
Since 1948, 224 people have suffered major alligator bites, including 22 fatalities, according to data released in 2011.
Several large alligators are known to live in Lake Okeechobee, which feeds the river Mr Langdale was swimming in.
Florida Fish and Wildlife Conservation Commission spokesman Jorge Pino said the reptile was eventually found to be 11ft long when it was captured and killed.
Mr Langdale's friends said the teenager put his arm in between his body and the alligator when the animal "came straight at him".
"It took his arm and him under," Matt Baker told local TV station WBBH .
He reappeared quickly, said friend Gary Beck.
"He was waving saying, 'Call the paramedics! My arm is gone!'" Mr Beck said.