George Zimmerman new bail set at $1m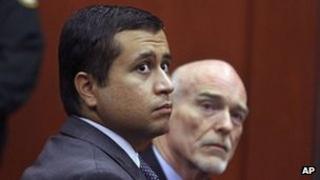 A judge has set a new bail of $1m (£642,000) for the neighbourhood watch volunteer who shot an unarmed black teenager in Florida.
George Zimmerman faces second-degree murder charges over the death of Trayvon Martin in Sanford in February.
He maintains he shot Martin in self-defence during a fight on the ground.
Mr Zimmerman was previously freed on $150,000 bail, but was returned to jail after prosecutors argued he misled the court about his finances.
A website Mr Zimmerman created for his legal defence had raised $135,000 by the time of his first bond hearing, prosecutors said, but he and his wife did not mention the money, maintaining they had limited resources.
The two were recorded in jail house phone calls in which they discussed moving money around accounts.
His wife, Shellie Zimmerman, was charged with perjury, and has left jail on a $1,000 bond.
'Flaunting the system'
Issuing the bail bond, Judge Kenneth Lester said a higher security amount was needed to ensure Mr Zimmerman would show up for his eventual trial.
"Under any definition, the defendant has flaunted the system," he wrote. "The defendant has tried to manipulate the system when he has been presented the opportunity to do so."
The judge also imposed several restrictions on Mr Zimmerman if he were to be released. They include electronic monitoring and the requirement for him to remain in Seminole County, Florida but stay away from Orlando international airport.
Mr Zimmerman, who had previously been allowed to leave Florida because of fears for his safety, returned to prison in June.
Under the conditions of the new bail, Mr Zimmerman is required to pay $100,000 to a bail bond company and post collateral worth $1m.
Mr Zimmerman's lawyer has issued an appeal for donations on his website, saying neither Mr Zimmerman nor his family have the requisite collateral. A fund to pay for Mr Zimmerman's defence now has $211,00 in it, his lawyer said.
The racially charged Trayvon Martin case has divided the US.
Florida police did not arrest Mr Zimmerman for six weeks after the shooting. Under the state's controversial "stand your ground" law, the use of lethal force is allowed if a person feels seriously under threat.