California approves homeowner mortgage law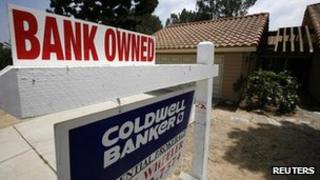 Lawmakers in California have approved new protections for homeowners facing foreclosure and abusive bank practices.
They passed a law to stop foreclosures during mortgage renegotiations, with a ban on "robo-signing" - the bulk-approval of foreclosures.
The deal includes much of a $25bn federal settlement with five banks and would be the first such state law.
The bill, opposed by many banks, has been sent to California Governor Jerry Brown to be signed into law.
The governor of the western US state, one of the states to be hit hardest by the US housing crash, has not given an indication of whether he supports the measures. But correspondents say he is unlikely to veto the legislation.
'Transparency and fairness'
California Attorney General Kamala Harris, a key architect and supporter of the law, has estimated that 700,000 people in the state are facing foreclosure.
"They will now have a system that will offer them transparency and fairness," she said after the vote.
The law would ask lenders to give customers a single point of contact with whom they could discuss modifications to their loans. It would stop banks from moving forward with foreclosure proceedings while those talks were going on.
Under the new measures, California homeowners could also sue lenders for violating the law. The law would take effect on 1 January and apply to all mortgage lenders in the state.
The bill has been criticised by banks, mortgage providers and some real estate companies, who say the changes would impose new burdens on their companies.
They also say the law would only delay foreclosures rather than prevent them, and and lead to a slow recovery in the housing market.
In a letter to lawmakers on Friday, opposition groups said they were concerned the bill would "encourage frivolous litigation" from people who could not afford to continue staying in their homes.
The law was amended to reflect some of these concerns and now offers protection only to first mortgages and to homeowners who are still living in their houses.