Second body recovered from Canada mall wreck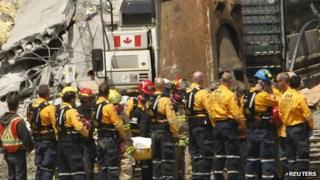 A second body has been removed from the rubble of a shopping centre whose roof collapsed on Saturday in Canada's Ontario province, officials say.
Rescue spokesmen say it is a "miracle" more people were not hurt in the incident in the city of Elliot Lake.
Part of the Algo Centre Mall, which is deemed structurally unsafe, has been carefully dismantled using special robotic machinery.
Officials say they do not believe anyone else is trapped inside.
The victims have been identified as Lucie Aylwin, who worked at a lottery kiosk, and Dolores Parizolo.
Ms Aylwin's fiance, Gary Gendron, was among those who had anxiously waited at the scene for news.
Bill Neadles, of Toronto's Heavy Urban Search and Rescue team, said in a news conference on Wednesday: "There were people that had just left the lottery terminal three seconds before.
"I know it's very unfortunate what's happened, but it's a very big miracle that it wasn't so much more devastating."
He said rescuers did not take the decision lightly to suspend work, and could not return to the site until Ontario Premier Dalton McGuinty had authorised an alternative plan.
"It wasn't something that we wanted to do," said Mr Neadles. "It weighs very heavily on me to have to turn around to leave that individual in a position so helpless."
Mr Neadles was given a standing ovation by an audience of residents.
There was outrage when rescue crews suspended the search on Monday.
By early Wednesday morning, about 40 residents were waiting for an update as crews continued work, the Globe and Mail reported .
No signs of life have been heard from the rubble since Monday, and Mr Neadles told reporters he did not believe there was anyone else inside.
The Ontario premier has ordered a review of the response to the roof collapse.
"My undertaking to you all, and to all Ontarians, is that we will learn any lessons there are to be found here," said Mr McGuinty, after visiting the site on Wednesday.
More than 20 people suffered minor injuries in the collapse, which sent at least one parked vehicle as well as concrete and metal raining into the mall below, opening a hole 12m (39 ft) by 24m in its roof.
An escalator holding up portions of the second storey was found to be in danger of collapse.