Adopted son of Jerry Sandusky alleges sex abuse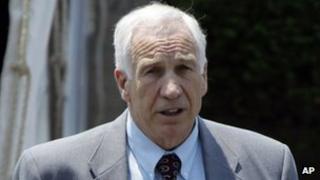 The adult adopted son of a former US college football coach on trial for child sex abuse has said through his lawyer that he was also a victim.
The claims from Matt Sandusky, 33, emerged hours after jurors went out.
Jerry Sandusky, 68, denies 48 counts of abusing 10 boys over 15 years and could spend the rest of his life in jail.
Prosecutors labelled the former Penn State assistant coach a "predatory paedophile", but the defence said his accusers have financial motives.
Matt Sandusky's lawyer said the coach's son met prosecutors earlier this week and was prepared to testify in the trial. This is the first time he has come forward with such allegations.
"During the trial, Matt Sandusky contacted us and requested our advice and assistance in arranging a meeting with prosecutors to disclose for the first time in this case that he is a victim of Jerry Sandusky's abuse," lawyers Andrew Shubin and Justine Andronici wrote.
"At Matt's request, we immediately arranged a meeting between him and the prosecutors and investigators.
"This has been an extremely painful experience for Matt and he has asked us to convey his request that the media respect his privacy. There will be no further comment," they said.
Graphic testimony
The jury will resume deliberations on Friday morning after failing to reach a verdict during a long session well into Thursday evening.
Earlier on Thursday, Senior Deputy Attorney General Joe McGettigan told the jury during closing arguments: "What you should do is come out and say to the defendant that he molested and abused, and give them back their souls."
"He knows he did it and you know he did it. Find him guilty of everything."
But Mr Sandusky's lawyer said his client was the victim of a legal system that presumed he was guilty, and accusers who hoped to be awarded money from civil lawsuits.
"They went after him, and I submit to you they were going to get him, hell or high water, even if they had to coach witnesses," Joe Amendola said.
After several hours of deliberations the jury asked to rehear testimony from a former graduate assistant, Mike McQueary, who reported that he saw Mr Sandusky abusing a boy, and from Dr Jonathan Dranov, who testified that Mr McQueary had given him a different account of what he saw.
The judge recommended that the jury listen to the testimonies on Friday morning.
Mr Sandusky, who did not testify, is accused of abusing boys he met through Second Mile, a charity he founded for at-risk youth.
He allegedly abused them at his home, in hotels and the athletic facilities of Penn State.
Eight men aged between 18 and 28 testified during the nearly two-week trial in Bellefonte, Pennsylvania, providing graphic details of the alleged abuse.
One witness told the court how he hid and then threw away underwear after Mr Sandusky allegedly forced him to have anal sex, making him bleed.
University scandal
In cross-examination during the trial, defence lawyer Joe Amendola pressed the accusers for further details of their allegations, as well as contacts they had with Mr Sandusky since the alleged abuse.
At least six accusers said they told incorrect or incomplete stories in early contacts with police, while three told the court that some details only came back to them in recent years.
But Mr McQueary told the jury he saw Mr Sandusky standing naked behind a boy in a Penn State shower, slowly moving his hips.
Meanwhile, Mr Sandusky's wife, Dottie, also took the stand and told the court about her husband's charitable work with children. The defence called 28 witnesses, many of whom spoke about Mr Sandusky's high standing in the community.
Mr Sandusky's arrest in November led to the firing of several Penn State officials, including legendary football coach Joe Paterno, amid accusations that the university had failed to act on reports of suspected abuse.
University President Graham Spanier was also sacked amid the unfolding scandal.
Two other Penn State administrators are awaiting trial for failing to report the suspected abuse and lying to the grand jury.
Penn State boasts one of the proudest football traditions in the country.