Canada porn actor murder suspect in court in Montreal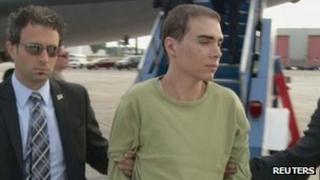 Luka Rocco Magnotta, the Canadian porn actor accused of killing and dismembering a Chinese student, has appeared in a Montreal court for the first time.
Lawyers had been expected to request a psychiatric evaluation, but proceedings focused on a legal schedule instead.
On Tuesday, he pleaded not guilty via videolink to murdering 33-year-old Lin Jun and posting his body parts to schools and political parties.
His trial is now set for March 2013.
The 29-year old was arrested in Berlin on 4 June and extradited to Canada two weeks later.
He appeared in court on Thursday under tight security.
Mr Magnotta's lawyers discussed a timetable for legal proceedings ahead of his eventual trial and expressed concern about their client's medical condition, the details of which have not been made public.
Ice-pick murder
Luka Rocca Magnotta is accused of first-degree murder, defiling a corpse and threatening the prime minister.
Mr Lin's headless torso was found behind the block of flats where the bisexual porn actor lived.
It is thought that Mr Lin, who was studying engineering and computer science at Concordia University in Montreal, had been in a relationship with the man suspected of killing him.
Severed limbs, also confirmed to be the Chinese student's, were sent to political parties in Ottawa - including Canadian Prime Minister Stephen Harper's Conservative Party - and to two schools in Vancouver.
Police say they intend to speak to Mr Magnotta about the whereabouts of the head, which is still missing.
Detectives suspect he used an ice pick to stab Mr Lin at his flat late last month, before carving up the body and filming himself sexually abusing the corpse.
A film thought to show the murder was posted online and police say they have now obtained a longer version of the video.
Mr Lin's family have travelled to Canada and a Chinese foreign ministry spokesman said on Tuesday that the government hoped for justice in order to let the victim "rest in peace".