Canada university campus shooting suspect arrested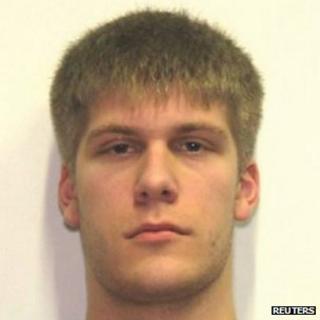 A man wanted in connection with the shooting dead of three people in Edmonton, Canada has been arrested by US border officials.
Travis Baumgartner, 21, was stopped near the Lynden border crossing.
Three security guards operating an armoured vehicle for the company G4S Cash Solutions - where Baumgartner also worked - were killed and one injured in the shooting.
A significant amount of money was found in Baumgartner's truck, police said.
"We're grateful to the border officials at Lynden, Washington, for their excellent work in arresting a man we believe was armed and extremely dangerous," Edmonton police Supt Bob Hassel said in a statement .
Canadian police officials said they were heading to Lynden to bring Baumgartner and the truck back to Canada.
The shooting took place on the University of Alberta's campus when the team of G4S Cash Solutions workers - believed to include Baumgartner - were making a delivery to bank machines at the university's Hub mall, police said.
Two men and one woman died from their injuries and another man is in hospital with life-threatening injuries, police said.
Baumgartner's mother had previously issued a statement calling on him to turn himself in to police.
"I want you to come home and do the right thing. Let's work this out together," Sandy Baumgartner had said, according to Edmonton police.