Canada House of Commons in marathon 24-hour budget vote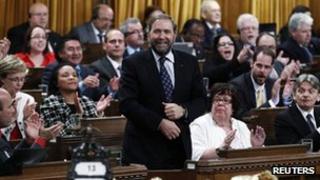 Canada's House of Commons has held a marathon voting session lasting nearly 24 hours on 800 amendments to the country's budget bill.
The marathon vote was an attempt by opposition parties to make changes to the bill or draw attention to the contents of its more than 400 pages .
MPs left the chamber in shifts, in order to rest but ensure enough members voted on each amendment.
The budget passed when voting finally ended just before midnight on Thursday.
The session began on Wednesday evening with the reading of each amendment; they were then all grouped into 159 votes.
Official votes on the amendments began at 00:59 EST (04:59 GMT) on Thursday. Members had to be called and stood to record their vote.
Conservatives, who hold the majority in the Parliament, won the budget vote when the marathon ended at 23:00 EST (03:00 GMT Friday).
The budget must now go to the Senate, where it is virtually certain to be approved.
Passing the time
The shift strategy was tested when Green Party leader Elizabeth May, who has been present for each vote, said Prime Minister Stephen Harper had not arrived in time to have his vote counted.
Mr Harper maintained he had and the Speaker took him at his word, according to CBC News .
As voting continued throughout the day, NDP members were deliberately slow to rise on votes, especially on environmental issues, NDP MP Nathan Cullen told reporters.
"If we had simply allowed the government to pass this bill without any inconvenience at all, the lesson they would have taken away, and Canadians would have taken away, is that Parliament is less important than it really is," he said.
Conservative leaders accused opposition parties of wasting time and money.
"This is not a time for gamesmanship," Finance Minister Jim Flaherty said. "This is a serious time in which we need to protect Canada and advance our economic agenda... we'll do whatever we have to do today and tonight and in the early hours of tomorrow morning to get the job done."
House of Commons members found various ways to pass the time while waiting for their name on each vote. Many took to twitter to update or took short walks during breaks.
The National Post reported Mr Harper was reading a book, while NDP MP Dan Harris was building a Star Wars Lego set.
On Thursday morning, assembled members sang Happy Birthday to MP Hoang Mai, who turned 39.