'Mob boss' James 'Whitey' Bulger's girlfriend jailed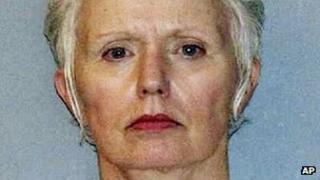 The woman who helped alleged Boston mob boss James "Whitey" Bulger evade capture for 16 years has been sentenced to eight years in prison.
Catherine Greig, 61, was captured along with her boyfriend in California in June 2011.
Mr Bulger, once on the FBI's 10 Most Wanted List, is awaiting trial on 19 murder charges.
Greig's lawyer told the court that Mr Bulger is still the "love of her life" and she does not think he is guilty.
However, she pleaded guilty to conspiracy to harbour a fugitive as well as identity fraud in March 2012.
She acknowledged in court she had agreed to join him on the run in early 1995 and supported him with false ID documents.
As part of the plea agreement, she will not be forced to testify. Her sentence includes a $150,000 (£96,332) fine and three years supervised release.
Mr Bulger, 82, is accused of leading Boston's Winter Hill Gang and was also an FBI informant against a rival mafia gang.