Mitt Romney mobile app misspells 'America'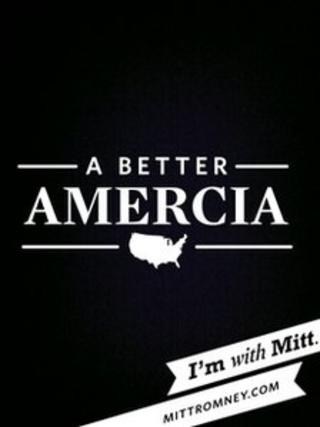 A mobile phone application released by Mitt Romney's Republican presidential campaign has got off to an awkward start, misspelling one of his slogans.
Users of the "With Mitt" iPhone application are greeted with the message "A Better Amercia", urging them to express their support.
The mistake has gone viral on social networking sites and a website for spoof versions has been set up.
On Tuesday, Mr Romney clinched the Republican nomination for president.
The application allows users to upload a photo and overlay it with their own slogan supporting Mr Romney's campaign.
'Mistakes happen'
Mitt Romney's campaign spokesperson Andrea Saul told the American MSNBC news network that "mistakes happen".
"I don't think any voter cares about a typo at the end of the day."
She added that an update had been sent to Apple to correct the spelling and was waiting for final approval.
Mr Romney has now gained enough delegates to win the party nomination for November's presidential elections, after the Texas primary results were anounced on Tuesday.
President Obama has called him to offer his congratulations and said he "looked forward to an important and healthy debate about America's future".