Mitt Romney defends Bain Capital years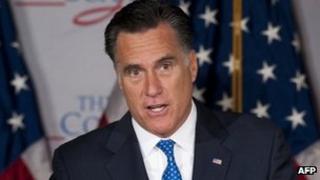 Republican presidential candidate Mitt Romney has strongly defended his time at private equity firm Bain Capital.
In an interview with Time magazine, Mr Romney said having spent his career in business made him more qualified to fix the economy.
His remarks come after an Obama campaign ad called Mr Romney a "corporate raider".
Mr Romney told a luncheon of Latino businessman that President Barack Obama had decided to "attack success".
"This is a time when everybody in this administration should be doing everything in their power to support you," Mr Romney said. "It's no wonder so many of his own supporters are calling on him to stop this war on job creators."
Newark Mayor Cory Booker waded into the debate on Sunday, saying on NBC's Meet the Press programme that the Obama ad criticising Bain and Mr Romney was "nauseating".
While Mayor Booker, a Democrat, later released a web video questioning Mr Romney's record at the company, Republicans have used his comment from Meet the Press in campaign emails.
In a press conference in Chicago on Monday, Mr Obama said attacking Mr Romney's time at Bain was fair game, and relevant to the worries of middle-class America who might work for companies taken over by private equity firms.
"This is not a distraction, this is what the campaign is going to be about," he said.
He added that the president's job was not to make money for investors but to worry about everyone not just the few.