Profile: Paul Watson, founder of environmental group Sea Shepherd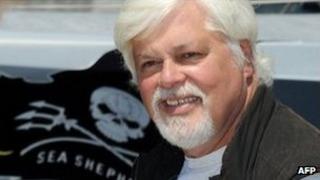 Paul Watson, the founder of US-based anti-whaling group Sea Shepherd, was introduced to the world of environmental activism at an early age.
Born in Toronto in 1950 and brought up in a fishing village in New Brunswick, he was just nine years old when - according to the Sea Shepherd website - "trappers killed one of his beaver friends".
Inspired, he set about confiscating and destroying leg-hold traps, and disrupting deer hunts.
Mr Watson says he was one of the founding members of Greenpeace in 1971.
The environmental campaign group disputes he was a founder, but concedes he was "an influential early member" who took part in many of its high-profile campaigns against whaling and nuclear testing.
Confrontational methods
But he left Greenpeace in 1977 because his confrontational methods - he proposed ramming illegal whalers - ran against the group's policy of non-violence.
He set up the Sea Shepherd Conservation Society, bought a new ship, and took to the seas again.
In the past 35 years he has had a series of violent confrontations with seal hunters, illegal whalers and various navies during which he has been shot at, chased and arrested.
In May 2012 he was arrested in Germany. The arrest warrant relates to a clash in Guatemalan waters and subsequently in Costa Rica in 2002, where Sea Shepherd was attempting to combat illegal shark finning - which involves sharks being killed solely for their fins, the only edible part of the fish.
Mr Watson has had numerous brushes with the law since.
In July 2011 his vessel, the Steve Irwin, was briefly impounded in the Shetland Islands after a Maltese fishing company sued him for $1.4m (£850,000) over his disruption of their blue fin tuna catch.
Sea Shepherd was later involved in an action against the Japanese whaling fleet in the Southern Ocean.
That culminated in a warning from Australian Prime Minister Julia Gillard that future such protests would result in activists being "charged and convicted".