US archive thief foiled by collector David Goldin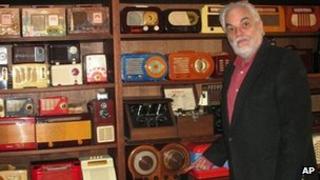 A US recording enthusiast unmasked a thief after finding a one-of-a-kind Babe Ruth recording on eBay - that he had donated to the National Archives.
J David Goldin, 69, bought another record from the seller and tracked the return address to a Maryland home.
The thief turned out to be the employee he handed the recording of the baseball legend to 30 years earlier.
Leslie Charles Waffen has admitted stealing thousands of sound recordings from the Archives.
He was sentenced on Thursday to 18 months in prison.
Waffen had recently retired from the National Archives and Records Administration, the government agency entrusted with preserving US records, including the Declaration of Independence and the US Constitution.
Prosecutors said he had sold about 1,000 of the recordings stolen from the Archives online, including a recording of the 1948 World Series and an eyewitness report of the Hindenburg crash.
Return address
Mr Goldin, who began collecting at the age of 14, has amassed 100,000 recordings in his Connecticut home, converting most to copies on tape and keeping meticulous records.
He donated many of the original metal, glass and plastic records to the National Archives in the 1970s.
During a routine online search in September 2010, Mr Goldin saw the Babe Ruth interview, which sold for just $34.75 (£21). His donated recording was the only existing one.
"I took one look at the record label and I said: 'Holy smokes, that's my record,'" he told the Associated Press.
After confirming with the National Archives that the record was missing, and believed stolen, he bought another item from the seller on eBay, "hi-fi-gal", and tracked the return address.
With that information and more, authorities searched Waffen's house, removing two truckloads of material.
Waffen pleaded guilty in 2011, saying in letters to friends and colleagues he was "deeply ashamed and embarrassed" by his actions.
"I lost archival perspective and made wrong choices," Waffen said.