Colombia sex scandal 'did not put Obama in danger'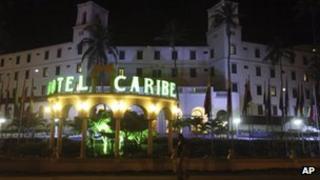 US President Barack Obama's safety was not risked by a vice scandal involving a dozen Secret Service agents in Colombia, a Senate panel has been told.
Homeland Security Secretary Janet Napolitano told the judiciary committee the misconduct was "inexcusable".
Wednesday's hearing was the first public proceedings on the scandal since it broke earlier this month.
The agents were part of a team preparing for a visit by Mr Obama to the 14-15 April Summit of the Americas.
But asked whether the safety or security of President Obama was ever at risk, Ms Napolitano said that had been one of her first questions to Mark Sullivan, head of the Homeland Security Department, which oversees the Secret Service.
"The answer is 'no'. There was no risk," she was quoted as saying.
Eight of the 12 agents have been sacked. A further 12 military personnel are being investigated, and have had their security clearance revoked.
President Obama described the men as "knuckleheads" on Tuesday, but defended the Service as a whole as "incredible".
'Actions of a few'
Ms Napolitano said a "thorough and full investigation" was under way into events at the Hotel Caribe in Cartagena ahead of President Obama's arrival for the summit.
The scandal erupted after a Colombian woman said one of the agents had welched on a promise to pay $800 (£500) to spend the night with her.
It then emerged up to 20 women were allegedly involved in the scandal.
"All 12 [agents]... have either faced personnel action or been cleared of serious misconduct," Napolitano said.
"We will not allow the actions of a few to tarnish the proud legacy of the Secret Service."
She said part of the investigation would focus on "what if anything needs to be tightened up".
A military investigation is also being held into the events in Cartagena, and another Senate panel is looking for any evidence of a pattern of misconduct by the Secret Service over a longer period.
"If so, what was done about it, could something have been done to have prevented what happened in Cartagena?" said Senator Joe Lieberman, chairman of the Homeland Security and Governmental Affairs Committee.
"And now that it has happened, what do they intend to do?"
It has also emerged that three Marines and one member of staff at the US embassy in the Brazilian capital Brasilia were punished last year after they allegedly pushed a sex worker out of a car amid a dispute over payment.
An unnamed official told AP news agency the woman involved - who reportedly broke her collarbone when she was pushed - had decided to sue the embassy.