John Edwards' accuser called other witnesses, says judge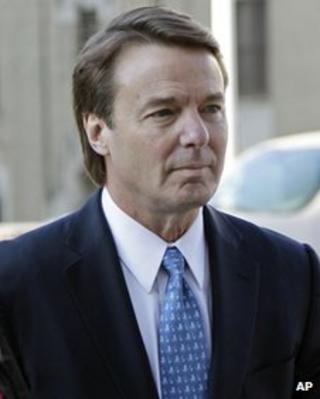 A key witness in the campaign finance case against John Edwards called fellow witnesses before the trial to discuss testimony, a US judge has said.
On the opening day of the trial, the court heard that Andrew Young, Mr Edwards' former aide, called three other witnesses in the last fortnight.
Judge Catherine Eagles said the calls could be mentioned in court.
The two-time presidential hopeful, 58, is accused of using political campaign money to hide a love affair.
The former Democratic North Carolina senator denies the charges, but admitted two years ago he had fathered a child with then-mistress Rielle Hunter in 2007.
Family man image
Mr Young, who initially claimed paternity of the child, is considered an important witness for prosecutors at the trial, which opened on Monday in Greensboro, North Carolina.
The former aide's calls to fellow witnesses are a possible violation of federal law, but Judge Eagles ruled that while lawyers for Mr Edwards could mention the improper contact, they were barred from using the term "witness tampering".
Prosecutors say Mr Edwards used funds to keep up a public image as a "family man", hide the secret of his affair and maintain his presidential hopes.
The former candidate sat silently in the courtroom on Monday morning as prosecutor David Harbach said in an opening statement: "Edwards did what he always did: deny, deceive, manipulate."
Prosecutors say Mr Edwards used nearly $1m (£620,000) provided by two wealthy campaign donors to help hide his pregnant mistress as he sought the White House in 2008.
But he denies having known about the money, which paid for private jets, hotels and medical care for Ms Hunter, a videographer.
"The evidence will show that John Edwards did not have a criminal intent," lawyer Allison Van Laningham said.
Elizabeth Edwards, who battled breast cancer, separated from Mr Edwards after he admitted fathering Ms Hunter's child. Mrs Edwards died in December 2010.
Mr Edwards could face up to 30 years in prison and $1.5m in fines.