Wal-Mart investigates Mexico bribery allegation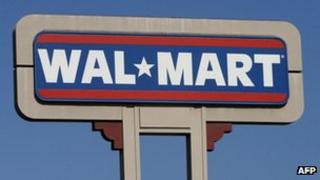 US retail giant Wal-Mart says it is investigating allegations that its Mexican subsidiaries used bribes to secure permits to build new stores.
Wal-Mart said it was deeply concerned about the allegations, published by the New York Times.
Under US federal law, it is a crime for US corporations and their subsidiaries to bribe foreign officials.
The company said it took compliance with the US Foreign Corrupt Practices Act "very seriously".
The article, published in Saturday's New York Times, also says that top Wal-Mart executives were made aware of the alleged bribery campaign and failed to root out the problem.
The report quotes Sergio Cicero Zapata, an executive who had resigned from Wal-Mart Mexican subsidiary (Wal-Mart Mexico y Centroamerica) in 2004.
Mr Cicero reportedly told the New York Times he had helped organise pay-offs to local officials in exchange for help getting permits to build new Wal-Mart stores in Mexico.
According to Mr Cicero, he alerted a senior Wal-Mart lawyer to these incidents in 2005.
An internal investigation was launched, and uncovered a paper trail amounting to more than $24m in suspected bribery payments, the report says.
The article says that the lead investigator recommended that Wal-Mart expand the investigation, but that company leaders shut it down instead.
Walmart spokesman David Tovar said that many of the alleged activities in The New York Times article were "more than six years old", and that if the allegations were found to be true, "it is not a reflection of who we are or what we stand for".
According to the article, neither US nor Mexican law enforcement officials were notified and none of Wal-Mart Mexico y Centroamerica's leaders were disciplined.
"Indeed, its chief executive, Eduardo Castro-Wright, identified by the former executive (Sergio Cicero Zapata) as the driving force behind years of bribery, was promoted to vice chairman of Wal-Mart in 2008," the article says.
Wal-Mart Mexico y Centroamerica said it was "fully committed to complying with the laws of the countries where it operates, including any state or municipal regulations pertaining to the application for licenses and permits."