California's Jerry Brown ends 'unnecessary' briefings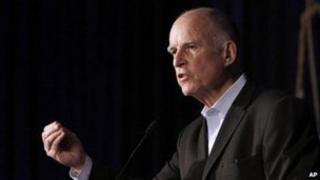 Regular reports on Australia's kangaroo harvest should no longer be required by law, California's governor Jerry Brown has said.
Around 700 regular briefings are "unnecessarily bureaucratic", Governor Brown concluded following an audit.
Other reports to be cut include monitoring the use of waste tyres, and a monthly check on the effects of an earthquake 20 years ago.
Eliminating them would "streamline" government, he said.
Governor Brown ordered an audit of all state reports in December in a bid to cut down on red tape, the BBC's Peter Bowes in California says.
Under current legislation, the department of fish and game is required to track Australia's kangaroo harvest and provide details to the government.
But auditors have concluded it has no impact on wildlife in California.
"It wastes a lot of time and money to write, track and file these reports. Government should be focused on providing information that is actually helpful to taxpayers, not on checking boxes to meet outdated bureaucratic requirements", Governor Brown said.
Of the 718 reports that have been identified as unnecessary, 375 require legislative action to eliminate.