When WNBA stars met a KGB spy: Spartak Vidnoje's story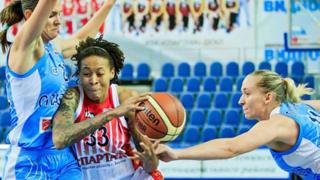 The Russian basketball club Spartak Vidnoje has an enviable record that includes four straight European championships. Key to their success has been top-ranked American players and the money of a flamboyant owner who was murdered.
In a small town south of Moscow, three American women line up on a basketball court with their teammates, casting their eyes up towards a Russian flag. The Russian anthem fills the arena.
The three Americans would normally have associated the anthem with Russian opponents when they play for the US national team.
But for six months out of the year, Candice Dupree, Seimone Augustus and Becky Hammon are stars on the Russian team Spartak Vidnoje. The Russian anthem is their anthem, and the country is their home.
Though the three women are more than comfortable on the court, they are otherwise out of their element. There is the fierce Russian weather, of course. And then there's the traffic.
"I would never drive here. Driving is crazy," says Dupree. "We call our driver when we need to go shopping for food, go to the mall, go to the movies or wherever. We keep them out until five o'clock in the morning sometimes."
The three American women don't get to see their families for months at a time, and don't have many friends beyond their teammates. They can't speak much Russian.
But they have a compelling reason to stay abroad.
"The money is a big thing for me, and our careers are so short we want to generate as much money as we can," says Seimone Augustus. "But it's hard to have to leave your family."
The women each earn up to four times more than they do during the WNBA season at home, where the maximum salary is around $100,000 (£62,328). There are also bonuses, raises and other perks, like the drivers.
Diamonds in Dubai
The good money and treatment these women receive is a direct legacy of the colourful and mysterious Russian who founded the team in 2006.
Just over two years ago that man - Shabtai von Kalmanovich - was gunned down, his black Mercedes riddled with bullets in what police called a contract killing.
Kalmanovich had an unusual past for a basketball patron. He was jailed in Israel for spying for the KGB, and was suspected of being involved in diamond smuggling in Africa.
In the opportunity-rich Russia of the 1990s, Kalmanovich bought businesses and staged concerts with stars like Michael Jackson.
It made him a very rich man.
Spartak Vidnoje coach Pokey Chatman says Kalmanovich liked to share his wealth with the women on his basketball team.
"It was like Disney World in Moscow," she says. "He made sure whoever's birthday it was, they got long-stemmed roses and some nice chocolates. Occasionally he'd even fly the girls to Dubai to get some diamonds."
For Kalmanovich, the team was a vanity project. He poured millions into it, knowing he would never turn a rouble in profit.
Now, the team sets out a special court-side tribute to him at each game.
"There's a pack of cigarettes he used to smoke, a lighter and a little glass with dirt from his grave," says team manager Steve Costalas. "Because he has to watch all the games. He has to be with us."
He may be there in spirit, but without Kalmanovich's deep pockets, things are not quite the same.
Empty seats
At the games, there is ample evidence of Kalmanovich largesse: a state-of-the-art arena with huge video screens and electronic scoreboards.
There's even a troupe of cheerleaders in skimpy costumes.
But during most games, only a third of the seats are filled, even though everyone gets in for free.
At court side watching closely is Kalmanovich's widow, Anna. A former player herself, she is now trying to keep the team going.
"I try to keep on with the philosophy of my husband," she says. "We have now a small budget, not as much money as before, but we do everything to keep a high quality team."
But Spartak has lost two top American players to teams who pay more.
Becky Hammon is staying. She says she's grateful to the team's late owner for the salary she's earning now.
"I think Shabtai really laid the foundations of how this organisation runs things," says Hammon.
"He really kind of changed the culture of all of women's basketball. Since Kalmanovich got involved, other women's teams had to step up their game. So now we're getting paid a lot better because of what he did years ago."
Still, life is not easy on the basketball circuit. Between competing overseas and in the WNBA at home, the Americans play or practice all the year round. Half of that time is spent in a strange land, far away from home.
The money is still very low compared to the NBA, where a player can make more than the entire women's league salaries combined. There, top players like Kobe Bryant and Tim Duncan are paid more than to $20m dollars by their teams.
At Spartak Vidnoje, Shabtai von Kalmanovich's widow, Anna, says she'll continue to try to perpetuate the legacy of her late husband, and in the process improve the options for female basketball players.
"I think the goal of his life was to make people happy," she says. "Especially women."
Additional reporting by Rob Hugh-Jones.
Listen to more on this story atPRI's The World, a co-production of the BBC World Service, Public Radio International, and WGBH in Boston.