Whitey Bulger girlfriend Catherine Greig pleads guilty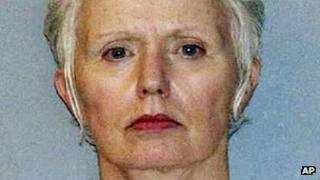 The girlfriend of alleged Boston mob boss James "Whitey" Bulger has pleaded guilty to helping him evade capture.
Catherine Greig, 60, acknowledged in court she had agreed to join him on the run in early 1995 and supported him with false ID documents.
As part of the plea agreement, she will not be forced to testify.
Mr Bulger, accused of leading Boston's Winter Hill Gang, was also an FBI informant against a rival mafia gang. He has denied a string of charges.
Mr Bulger and Greig were arrested by the FBI in June 2011 in California shortly after a new campaign was launched that focused on finding her.
They had been living in the same Santa Monica apartment for at least 13 years under assumed names, the Boston Globe reported.
As the net closed around him he had fled Boston after his former FBI handler warned him that he was about to be charged with 19 murders.
After fleeing, Mr Bulger was put on the FBI's 10 Most Wanted list. The handler, John Connolly Jr, was convicted for tipping Bulger off.
Greig faces up to 15 years in prison as a result of her plea, but federal sentencing guidelines suggest she may serve fewer than three years.
Her sentencing hearing is set for 12 June.