US Supreme Court to take on Florida sniffer dog case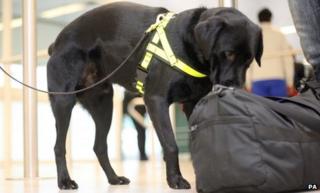 The US Supreme Court is to decide if the use of sniffer dogs outside public homes amounts to an illegal search.
The case arose from a December 2006 raid in Florida, prompted by a police dog catching the scent of drugs from outside the property's front door.
A trial judge agreed it was an unconstitutional intrusion, but an appeal court quashed that ruling. The state supreme court then upheld it.
The Supreme Court will hear arguments in April and make a ruling by June.
In late 2006, Miami-Dade Police Department received a tip that drugs were being grown in the Miami-area home of Joelis Jardines.
A chocolate labrador named Franky, part of the department's K-9 unit, was led to the property's front porch, where the animal smelled marijuana.
A search warrant was obtained and 179 marijuana plants, with an estimated street value of more than $700,000 (£450,000), were confiscated from the home.
As the case comes before the US Supreme Court, 18 US states and the territory of Guam have written in support of the use of such sniffer dogs.
"The Florida Supreme Court's decision jeopardises the states' ability to use this crucial tool to discover illegal drugs prior to their distribution," the states' filing says.
The US Supreme Court has previously ruled that private homes are entitled to a higher level of privacy than cars and other private property under the Fourth Amendment of the constitution.