Republicans 2012: Newt next in 'Anybody but Romney'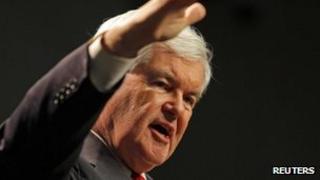 Well, I said watch out for Newt, didn't I?
The latest opinion polls show him surging ahead and a new Gallup poll has him ahead in "positive intensity".
So the pressure will be on him at tonight's Republican debate in Washington. His rise is no big surprise.
The party is still looking for a candidate who is not called Mitt Romney. Mr Gingrich raises hackles but no-one doubts he's up to doing a serious job.
Most people around town have the same thoughts about the field of candidates, although Democrats titter about it and Republicans despair.
They are both appalled at the general ignorance of many of the candidates, and their lack of grasp of the details, particularly about foreign affairs.
At least no-one can say that Newt lacks intellectual firepower. So expect the others to pile on him tonight. I hope to be there, tweeting from the hall if the technology plays ball.