Wall Street protesters getting harder to ignore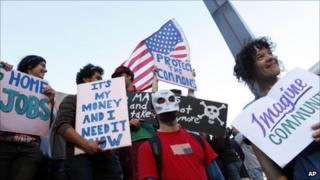 Is there something afoot on America's progressive left?
For more than three weeks hundreds, at times thousands, of people have gathered in New York as part of the Occupy Wall Street movement.
But in recent days the protests have spread from coast to coast, north to south and even across borders.
Their movement is often amorphous. There is no hierarchy, no obvious leaders and their goals are varied; a reaction to what they see as corporate greed, to unemployment, poverty, debt, the environment, medical costs, low wages or the lack of them.
But just because it is difficult to pin down and label does not mean that it is a movement unworthy of attention.
Some have compared the protesters to a left-leaning version of the Tea Party movement or perhaps an American response to the 'Arab Spring'.
The truth is that it is still too early to know how lasting and influential it will be.
Political risks
There are certainly many of the usual suspects at these gatherings: trade unionists, environmentalists and anti-war protesters.
There is also something very different.
Talk to old hands like Ann Wright, a veteran of the armed and diplomatic services who is also a familiar face at progressive rallies and she marvels at the involvement of students and young people.
"It is a new generation, not old fogies like me," she says, adding that in the past it has been really difficult to get young people involved but that they are now leading events.
"I am 27-years-old with $100,000 (£64,654) in debt." It is one of hundreds of hand-written declarations on the website 'We Are the 99%'.
It is a gritty testimony from the have-nots who are now leading the charge against Wall Street, Congress and in some cases, the White House.
There was a small gathering in Washington DC today and although it was dominated by trade unionists there was also a group of young African-Americans from the north-east of the city.
They tell stories of economic disadvantage, of long-term unemployment and the social ills like drugs and prostitution that follow in their wake.
They insist that times are harder than they can remember and that they are ready to stand up and make their voices heard for the first time.
"The unemployment situation we have, the job situation, is really a national crisis."
Those are not the words of the protesters but Federal Reserve Chairman Ben Bernanke.
It recognises the gravity of the state of the economy, the extent to which people are suffering and the political risks that carries.
Many of those now occupying colleges and streets are disillusioned with the Obama administration, although their greatest criticisms are reserved for Congress and the Republican Party.
In order to prove that they represent something lasting and important they will have to attract large numbers of followers and a real cross-section of American society from all parts of the country, not just the liberal coastal cities.
Then the challenge for this new movement (or movements) will be to translate the sound and fury into meaningful political pressure for the change they demand.
This may be a passing phase but the anger and the passion is getting harder to ignore by the day.