US arrests 2,900 convicted illegal immigrants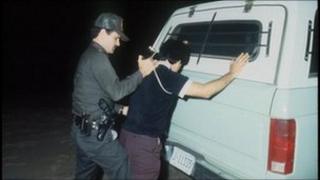 US authorities say they have arrested 2,901 illegal immigrants with criminal records in the last week across all 50 states.
The detainees include 1,600 individuals with serious convictions, 42 gang members and 151 sex offenders.
Dubbed Operation Cross Check, it was the largest sweep of its kind, involving 1,900 federal officers.
Nearly 1,300 of the detainees held in the swoop had multiple convictions to their name.
As well as being convicted criminals, 681 of those held had also ignored orders to leave the US, said the Immigration and Customs Enforcement bureau (ICE). And 386 of them had been removed from the US more than once.
Regional or statewide Cross Check operations have been taking place periodically since December 2009.
The first nationwide sweep took place in May 2011, resulting in a total of 4,506 arrests.
"The results of this targeted enforcement operation underscore ICE's ongoing commitment and focus on the arrest and removal of convicted criminal aliens and those that game our nation's immigration system," ICE director John Morton said in a statement.
The Obama administration has made the removal of convicted illegal immigrants a priority in its approach to illegal immigration in the US.