Solyndra executives plead Fifth Amendment at hearing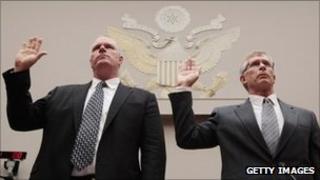 Senior executives of bankrupt solar panel maker Solyndra have declined to testify at a US congressional hearing into federal loans to the company.
Chief executive officer Brian Harrison and chief financial officer Bill Stover invoked the Fifth Amendment before the House Energy and Commerce Committee.
Solyndra received $528m (£340m) from the Energy Department in 2009 during a White House push to create green jobs.
But the company declared bankruptcy in September, and laid off 1,100 workers.
Mr Harrison told the committee on Friday: "On advice of counsel, I respectfully decline to answer any questions." Mr Stover did the same.
Lawmakers on both sides of the aisle expressed disappointment, but the investigating committee vowed to continue with their inquiry.
'Great Train Robbery'
Congress is investigating Solyndra amid allegations that the White House rushed through the due diligence process.
The panel's Republican chairman, Fred Upton, compared the Solyndra loan to the Great Train Robbery in England in the 1960s.
"It appears we have a great heist of over half a billion dollars and... maybe even co-conspirators called the US government," he said.
He described the loan as "reckless use of taxpayer dollars on a company that was known to pose serious risks before a single dime went out the door".
Emails between the office of Vice-President Joe Biden and the Office of Management and Budget sparked claims the White House had hurried a review of the loan ahead of a groundbreaking ceremony the vice-president was to attend.
The investigation has become a lightning rod for Republican criticism of President Barack Obama's green jobs policies.