Troy Davis makes final appeal before execution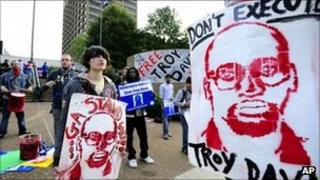 A US death row inmate has made a final bid for clemency two days before his scheduled execution for the 1989 killing of an off-duty policeman.
Troy Davis' legal team made the appeal to the Georgia Board of Paroles and Pardons, which has the power to commute the sentence.
Davis was convicted in 1991, but most of the witnesses have since recanted or changed their testimony.
The 42-year-old is due to face a lethal injection on Wednesday evening.
Over one million people worldwide have signed petitions for clemency in his case.
No murder weapon
Pope Benedict XVI, former US President Jimmy Carter and EU foreign policy chief Catherine Ashton are among those who have backed Davis, who has always maintained he is innocent.
He was convicted of the fatal shooting of police officer Mark Allen MacPhail in Savannah, Georgia.
Prosecutors say the off-duty policeman intervened as Davis was attacking Larry Young, a homeless man, in a Burger King car park.
Davis was said to have had a "smirk" on his face as he shot MacPhail.
But no murder weapon was ever found and no DNA evidence or fingerprints conclusively linked Davis to the shooting.
Seven of the nine witnesses who testified against him have since recanted or changed their testimony. Others, who did not testify, have said another man at the scene admitted to the shooting.
Vigil
The Georgia Board of Pardons and Parole heard on Monday from defence lawyers, witnesses and prosecutors as well as MacPhail's relatives. But Davis did not appear.
Madison MacPhail, the victim's daughter, told reporters: "A future was taken from me. A future we would have had together, the future he would have had with his family."
"I believe the death penalty is the correct source of justice," she added. Ms MacPhail was a toddler when her father was killed.
The board has the power to commute the death sentence to life in prison or life without parole.
A vigil took place outside the hearing. Demonstrators held signs that said "I am Troy Davis" and "save Troy Davis", and chanted for his release.
The parole board is Davis' last chance after the federal appeals courts and the Georgia Supreme Court upheld his conviction.
In 2010 US District Judge William T Moore Jr ordered a rare innocence hearing to investigate doubts about Davis' guilt.
Two witnesses said they falsely incriminated Davis, while two others told the court another man had confessed to being the actual killer.
But Judge Moore said there was not enough evidence to vindicate Davis or grant him a new trial.
Appeals courts have subsequently refused to review the judge's decision.