Swollen Susquehanna River prompts evacuation orders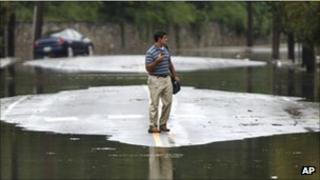 Nearly 100,000 people in the north-eastern US have been given orders to evacuate areas around the Susquehanna River after torrential downpours.
Squalls from Tropical Storm Lee drenched New York and Pennsylvania and pushed river levels dangerously high.
The National Weather Service predicts up to 10in (25cm) of rain in some areas on Thursday evening.
Many of the areas under evacuation order were flooded in the aftermath of Hurricane Agnes in 1972.
In Binghamton, New York, the river has already broken a record by spilling over retaining walls in the downtown area. Flooding has also closed a major highway near the city.
Some 20,000 people are under evacuation orders in Binghamton.
Near Wilkes-Barre, Pennsylvania, more than 70,000 people have been told to leave.
Residents have been asked to leave by 16:00 EDT (21:00 BST).
The river is expected to crest later on Thursday at 41ft (12m) - the exact height of the levees around Wilkes-Barre.
Ninety miles down the river, crews put sandbags around the governor's mansion in Harrisburg, the capital of Pennsylvania.