Medicare: 91 charged over $295m US health fraud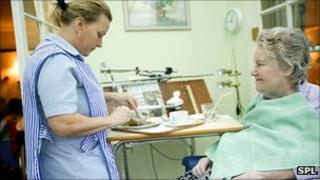 Ninety-one people, including doctors and nurses, have been charged with making fraudulent US Medicare claims totalling $295m (£185m).
Some of the 91 are said to have billed the US government for health services to people who had already died.
Arrests were made in eight US cities, Attorney General Eric Holder said.
Medicare is a US government programme designed to help residents older than 65, or those who are permanently disabled, cover medical costs.
The arrests occurred over three weeks, with 70 people charged on Tuesday and Wednesday.
About 400 law enforcement officials were involved in the arrests, the justice department said.
"Some of the most vulnerable among us - including seniors suffering from dementia and Alzheimer's disease - were exploited by those willing to steal precious taxpayer resources," Mr Holder said at a news conference on Wednesday announcing the charges.
Florida fraud
The $295m total was the largest amount of false billing targeted by authorities since a joint team was set up by the Department of Justice and the Department of Health and Human Services in 2009, Mr Holder said.
Just under half of those charges came in Miami, considered a major centre for healthcare fraud.
The Miami charges included 24 defendants who allegedly paid recruiters to refer ineligible patients to a mental health centre.
Some were residents of halfway houses who were allegedly threatened with eviction if they did not attend the centre, court documents said.
Another fraudulent billing included an alleged $3.4m (£2.1m) of medically unnecessary physical therapy by two doctors in Brooklyn.
Joint teams have focused on stopping cases of Medicare fraud in nine cities across the country - arrests were eventually made in eight of those locations.
"The indictments announced today serve as a powerful reminder that Medicare fraud is a nationwide problem, " Assistant Attorney General Lanny Breuer added.