9/11: Ten Years on
Top Stories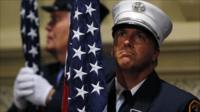 The BBC's minute-by-minute coverage of the day America marked a decade on from the 9/11 attacks.
The US pauses to mark 10 years since the 9/11 attacks on New York, Washington and Pennsylvania which killed nearly 3,000.
Al-Qaeda is believed to be behind a 'credible' threat to New York and Washington ahead of the 9/11 anniversary, the US secretary of state says.
The death of Bin Laden