Alaska mother convicted of abusing adopted Russian son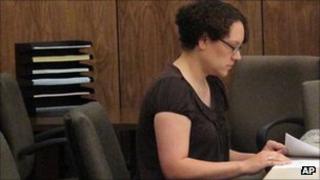 A US woman accused of using extreme methods to punish her adopted Russian son as a ploy to get on a TV programme has been convicted of child abuse.
The jury in Alaska was shown a video in which Jessica Beagley poured spicy sauce into her son's mouth.
Defence lawyers said she wanted to appear on the TV programme, in which people seek parenting help, after normal punishments had failed.
Correspondents say the case has outraged many in Russia.
The court in Anchorage heard that Beagley recorded the video for an American TV show called Doctor Phil, in which parents seek help over child behaviour issues.
Ban lifted
Prosecutors said Beagley asked her 10-year-old daughter to record footage, in which she confronts her adopted son about his behaviour, and then pours hot sauce into his mouth.
In the video, which Beagley recorded for a programme segment called "Mommy Confessions", she could also be seen forcing the screaming seven-year-old boy into a cold shower.
Defence lawyers said she was desperate to appear on the programme after normal punishments failed to work on the boy, who they said had emotional problems.
"It is our feeling Jessica was doing the best she could," said defence lawyer William Ingaldson. "This is a very good, loving family."
Beagley showed no emotion when the jury announced its verdict.
She and her husband Gary Beagley, a policeman in Anchorage, walked quickly from the courtroom without responding to reporters' questions.
The couple have four biological children.
Beagley could be jailed for up to a year or fined up to $10,000 (£6,060) when she is sentenced on Monday.
Correspondents say the case has sparked outrage in Russia, with some people calling for the boy and his twin brother to be returned there.
The court case comes four months after Russia temporarily suspended adoptions by US families.
Moscow acted after an American woman, Torry Hansen, put her seven-year-old adopted son on a one-way flight to Russia alone, with a note saying she could no longer care for him.
The ban was lifted in June, when the American and Russian presidents, Barack Obama and Dmitry Medvedev, agreed to work together on rules on adoption.