Dominique Strauss-Kahn hotel maid defends herself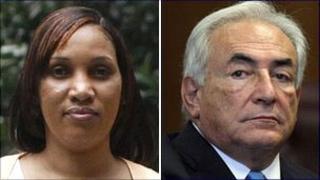 The hotel maid who accuses ex-IMF chief Dominique Strauss-Kahn of attempted rape has denied that her allegations are motivated by financial gain.
Nafissatou Diallo and her lawyer met US prosecutors on Wednesday.
During this time, they reviewed tape recordings of phone calls she had with a friend who was in jail.
Ms Diallo was reported to have discussed with the man how to obtain money from the French politician, who denies the charges against him.
Her lawyer, Kenneth Thompson, said the tapes showed that Ms Diallo had recounted the alleged attack to her male friend during their first conversation a day after the incident. This showed that her focus was on what had happened to her and not on Mr Strauss-Kahn's wealth, he said.
"Information has been put out there about Ms Diallo that now I know was false. She never was scheming to take DSK's money, and that's a fact," said Mr Thompson.
"I'm telling you that certain things were said that were merged together in this quote that was given to The New York Times," he told reporters.
In early July, the New York Times reported that during a phone conversation with a man jailed for possessing marijuana, Ms Diallo said words to the effect of "Don't worry, this guy has a lot of money. I know what I'm doing."
On the tapes, her references to Mr Strauss-Kahn's resources and about knowing what to do were made at different points and in contexts that cast them in a considerably different light, Mr Thompson said.
The lawyer said that in his client's first conversation with the man, she did not mention Mr Strauss-Kahn's wealth but told her friend that "someone tried to rape me, and that he's a powerful, big man" who had tried to take her clothes off, pushed her, and ultimately made her do something against her will.
In a subsequent conversation, Mr Thompson said Ms Diallo - who is originally from Guinea in west Africa - had told her friend that her alleged attacker was "powerful and rich".
But Mr Thompson insisted it was earlier in that conversation - and not in connection with any mention of Mr Strauss-Kahn's status - that she had said "I know what to do" to signal that she had gone to the authorities and planned to hire a lawyer.
Ms Diallo revealed her identity earlier this week, saying she wanted to clear her name.
Mr Strauss-Kahn quit as IMF head to defend himself against the charges.