Drunk passengers 'caused fatal Canada air crash'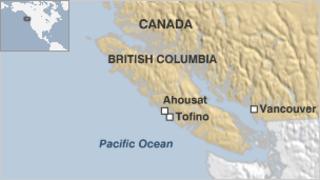 A small plane crash in Canada in 2010 that killed four people was probably caused by drunk passengers interfering with the pilot, a report says.
Investigators think one passenger kicked the pilot's seat, jamming his body into the controls and causing the plane to dive 500ft (152m) into water.
The three British Columbia residents had chartered a Cessna for a six-minute flight in May 2010.
They had been drinking and arguing and carried liquor and beer aboard.
"The passengers were intoxicated at the time they boarded the aircraft, and had previously been argumentative," investigators with the Canadian Transportation Safety Board wrote in a report.
Canadian law forbids passengers from boarding an aeroplane if they are so intoxicated they pose a danger, and allows pilots to refuse to carry passengers if they have safety concerns.
On 29 May 2010, after haggling over the fare, the passengers boarded the Cessna 185 about noon after being told they could not bring their cargo - several bottles of liquor and a case of beer - aboard a water taxi.
The passengers - two women and a man, all in their 20s - were residents of the Ahousat First Nations reserve on Flores Island, CBC news reported at the time of the crash.
Unrecognised danger
The plane departed Tofino in the province of British Columbia, reached a cruising altitude of about 500ft above sea level, and crashed into Millar Channel about two miles (3.2km) short of Ahousat.
The plane floated for about 10 minutes, then sank. It was brought to the surface about two days later.
Investigators found no evidence of any malfunction in the aircraft or medical condition in the pilot, and the weather was mild. The passengers' bodies contained high levels of alcohol.
The ankles of the passenger seated behind the pilot were broken and the pilot's right wrist was broken.
Those observations led investigators to conclude: "It is possible the passenger seated behind the pilot kicked the pilot's seatback forward and held it there, pushing the pilot into the instrument panel and the controls forward thereby inducing a dive."
Investigators said the passengers' level of drunkenness possibly left them incapable of recognising the gravity of the situation and of halting the interference in time for the pilot to regain control of the aeroplane.