Profile: James 'Whitey' Bulger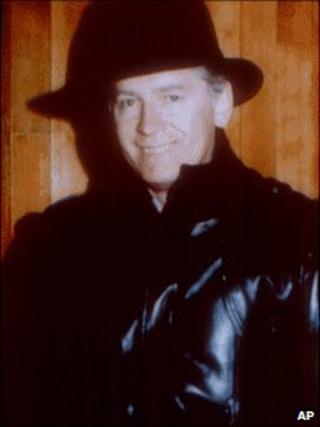 The FBI listed James J Bulger as an avid reader with an interest in history who could often be found in libraries or visiting historic sites.
But he was also accused of leading a notorious organised crime group that operated in Boston, Massachusetts more than two decades ago.
Bulger, who was captured in Santa Monica, California, in June 2011, had been wanted since 1995 on multiple counts including murder, extortion, racketeering and drug dealing.
That placed him on the FBI's list of "most wanted fugitives" alongside Osama Bin Laden and several alleged drug barons.
The FBI offered a $2m (£1.25m) reward for information leading to his arrest, and he was reportedly sighted in London several times.
In 2007 the FBI scoured Europe after footage appeared to show Bulger and his lover at a resort in Sicily, but it later proved to be video of a couple of innocent German holiday-makers.
'Carries a knife'
The FBI warned that Bulger had a violent temper and was known to carry a knife at all times.
Now 84, he grew up in a poor suburb of Boston.
He became the head of the Winter Hill Gang, an Irish-American outfit that operated in the Boston area from the early 1970s until the mid-1980s.
Among his run-ins with the law included the accusation that he helped smuggle a cache of weapons from the US to the IRA in the early 1980s.
Bulger had been on the run since 1995, when he escaped arrest after an FBI agent on his payroll tipped him off to his imminent indictment.
It later emerged that Bulger had been a prized FBI informant who gave the bureau information about rival criminals.
Before fleeing Boston he apparently stashed away millions of dollars in bank accounts and safety deposit boxes, some of them in Britain.
Animal lover
He was captured along with his long-time girlfriend Catherine Elizabeth Greig, a dental hygienist accused of harbouring Bulger.
Nicknamed "Whitey", Bulger used many aliases and disguises to avoid detection.
He kept fit by walking on beaches and in parks, and the FBI listed both him and Ms Greig as lovers of animals and nature.
His brother William was a Massachusetts state senator and also served as state senate leader.
William Bulger has insisted he knew nothing about his brother's life, but was forced to resign as president of the University of Massachusetts in 2003 because of his brother's reputation.
In August 213, he was convicted in Boston of 11 murders. The following November, he was sentenced to two life terms plus five years.
Judge Denise Casper told Bulger: "The scope, the callousness, the depravity of your crimes are almost unfathomable. Your crimes are made all the more heinous because they are all about money."