CIA chief Leon Panetta in Pakistan for talks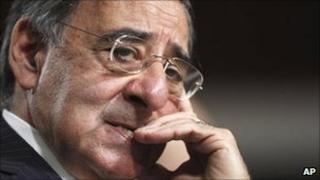 US CIA director Leon Panetta has met Pakistani officials for talks on repairing the relationship between the two nations, officials have said.
Mr Panetta's visit to the country marks his first since US operatives killed Osama Bin Laden in Abbottabad on 2 May, prompting a backlash from Pakistan.
US officials have said a strong relationship with Pakistan is vital in the battle against al-Qaeda.
Some lawmakers have suggested Pakistan was helping to hide Bin Laden.
Mr Panetta had dinner on Friday with Army Gen Ashfaq Parvez Kayani and the head of Pakistan's spy agency, Lt Gen Ahmed Shuja Pasha, US and Pakistani officials said.
During the meal, the men reportedly spoke about establishing a joint intelligence team to hunt down at least five other military targets inside Pakistan.
Since the raid on Bin Laden's compound, Pakistan has sent home most US Army trainers within its borders and said it no longer wishes to have financial assistance from the US.
'Talks going slowly'
Officials said attempts to repair the relationship, which US officials have said is imperative in the war in Afghanistan and the fight against al-Qaeda, were going slowly.
It is unclear how long Mr Panetta will stay in Islamabad.
Meanwhile, Afghan President Hamid Karzai has begun a two-day trip to Pakistan and is expected to discuss what role Pakistan can play in negotiations with the Taliban.
CIA Deputy Director Mike Morell and US Secretary of State Hillary Clinton have also visited Pakistan to help repair relations since the raid by the US Navy Seals.
Following their efforts, Pakistan allowed the CIA to re-examine the Bin Laden compound. The country also returned the tail of a helicopter that broke off during the raid.