Profile: Arianna Huffington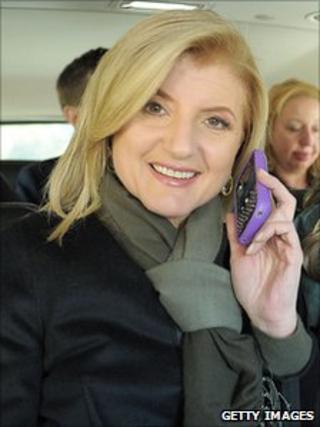 She was once described as "the most upwardly mobile Greek since Icarus". Arianna Huffington, who founded Huffington Post and has sold the left-leaning news and opinion site to US internet giant AOL, can certainly claim an unconventional career.
Arianna Huffington boasts a varied and accomplished CV - as a Republican then a Democratic commentator, author and political candidate.
Now, Ms Huffington has confirmed her place as one of America's richest and most influential bloggers, with the sale of her Huffington Post empire to AOL, for a reported $315m (£195.5m).
She will lead the newly formed Huffington Post Media Group as its president and editor-in-chief, putting her in charge of the combined firm's editorial content.
Ms Huffington described the role as her "last act".
"I want to stay forever," she told reporters. "The opportunities here are really endless."
Ms Huffington, a glamorous 61, launched the Huffington Post in 2005 with Kenneth Lerer and other investors.
"There were a lot of naysayers at the time," she told the BBC, describing the resistance to the idea from friends and colleagues.
'Made me believe'
At its launch, the website represented a new business and news model, generating much of its content from a community of citizen journalists and bloggers.
With 25 million users per month, Huffington Post is now one of the most visited websites in the US.
Arianna Huffington was born Arianna Stassinopoulos in Athens in 1950. Her father was a journalist but she credits her mother for her outlook on life.
Her mother "made me believe that I could try whatever I wanted and that if I failed she wouldn't love me any less", she told the BBC World Service.
She left her native country to study economics at Cambridge University, where she became president of the Cambridge Union.
After graduating she dated columnist Bernard Levin but said she had ended the relationship when he did not marry her.
She launched her career as a commentator in earnest with a virulent attack on feminist Germaine Greer's seminal work The Female Eunuch.
The Female Woman, which attacked feminism for ignoring women's "special considerations" for their family, was hailed by the right wing, and Ms Huffington began her ascent.
Political transformation
She moved to America and in 1986 married Texas oil billionaire Michael Huffington. She played a major role in his election to the US House of Representatives in 1992 and in his failed bid for a Senate seat two years later.
By this point, Ms Huffington had made a name in her own right as a darling of the Republican establishment and a key supporter of Newt Gingrich and other right-wing figures.
In 1998 she began her first internet venture, resignation.com, a website that catalogued all elected officials and public figures who had called for President Bill Clinton's resignation.
"The message of Resignation.com is clear," she wrote. "Take responsibility, Mr President, for what you have done to your party, your office and your country, and continue your 'journey' of 'reconciliation and healing' in private."
But a political transformation was not far off. Even before she divorced Michael Huffington in 1997 (he later announced he was gay), she had broken ties with the Republicans, leaving the party in 1996.
"My disillusion with the Republican Party had nothing to do with my marriage," she said. "It had to do more with my own understanding that the role of government had to be a lot more activist than I thought it had to be in order to solve major social problems that we were facing."
She began openly criticising her former political bed-fellows. Her book Pigs at the Trough attacked US President George W Bush and Vice-President Dick Cheney in particular, and called for grassroots action against corruption in American politics and business.
Ms Huffington also sponsored a series of adverts parodying Republican drug-control messages that implied drug users were somehow funding terrorism. Her version suggested owners of big petrol-guzzling cars were also helping out.
Her interest in political activism reached new heights when she ran as an independent candidate for governor of California in 2003.
Standing against Arnold Schwarzenegger, she described the race as the "hybrid versus the Hummer". She dropped out of the race before election day.
Huffington Post's readership and influence grew at a tremendous pace during the 2008 presidential election. Ms Huffington said the company made a profit for the first time in 2010, and in 2011 it was an attractive acquisition target for AOL.
"The combination of AOL's infrastructure and scale with the Huffington Post's pioneering approach to news and innovative community-building among a broad and sophisticated audience will mark a seminal moment in the evolution of digital journalism and online engagement," the two companies said in a statement on the deal.