Michael Jackson doctor Conrad Murray pleads not guilty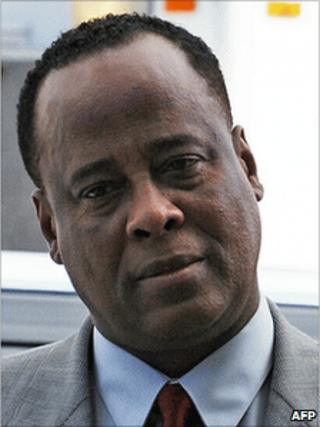 The doctor present at Michael Jackson's deathbed has pleaded not guilty to a charge of involuntary manslaughter in the singer's fatal overdose.
A judge ordered Dr Conrad Murray should stand trial in March over Jackson's death aged 50 in June 2009.
Prosecutors say Dr Murray, who was treating Jackson for insomnia, gave him a lethal dose of a powerful anaesthetic and then failed to provide proper care.
"I am an innocent man," Dr Murray said in a Los Angeles court.
The trial is set to begin on 28 March and is expected to last six weeks. The judge said he would decide before then whether to allow television coverage of court proceedings.
Dr Murray faces up to four years in prison if convicted.
At a preliminary hearing this month, witnesses testified that Dr Conrad had sought to hide the fact he had given Jackson propofol, a powerful surgical anaesthetic typically administered in a clinical setting.
And a police detective testified that Dr Murray had said he gave the singer the drug after administering several milder drugs during the course of the night to help him sleep.
Dr Murray's defence team says prosecutors have not adequately proved how Dr Murray caused Jackson's death, and argue Jackson's poor health contributed to his death.
"Dr Murray is looking forward to finally telling his side of the story," defence attorney Ed Chernoff said outside court.
The Los Angeles County coroner's office has ruled the singer died from an overdose of propofol, found in his body along with a cocktail of other sedatives.